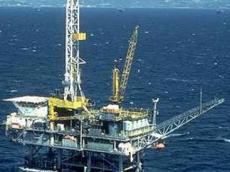 In Azerbaijan, the majority of PSA contracts with major international companies were made in the 90's of the last century. All of them are mainly focused on the exploration and development of oil reserves of the Caspian Sea. The gas as a source of huge profits did not have such a value 15-20 years ago as it has now.
From this point of view, the so-called "relinquished" fields, where commercially attractive oil reserves weren't found at one time may become targets for potential investors, who will allocate capital to discover large reserves of gas. History of discovery of Azerbaijani fields Umid and Absheron - a good example of such a reorientation.
In 1953 the first geophysical work was carried out. This was repeated in 1972 in a somewhat improved form. From 1977 to 1992, nine wells were drilled with negative results. It is clear that the exploration was conducted to find, first of all, oil reserves because of its role as the main energy source. More than 200 billion cubic meters of gas and 40 million tons of condensate were discovered as a result of the drilling of an exploration well on the field Umid in 2010.
French Total repeated this success in the field Absheron in 2011. After two unsuccessful attempts the French company announced the discovery of 350 billion cubic meters of gas and 45 million tons of condensate in 2011.
Gas prices are still firmly tied to the price of oil and oil products, despite the growing role of spot deliveries. In 1995-1999, when Azerbaijan has signed most PSA contracts, oil cost was $10-20 per barrel. Gas at these prices is of relatively little interest.
At present, oil is sold by ten times more and the value of natural gas as an object for making investments also increased. The average European import price on gas during the period was $85 per 1,000 cubic meters. In 2011, it amounted to $ 380, that is, increased by 4.5 times.
The policy aimed at reducing emissions of carbonic gas has stipulated the demand for gas in the entire energy balance of many, including European countries. Gas is much more ecological than coal (45 per cent less CO2 emissions during combustion) and oil (30 per cent less emissions). The accident at the Japanese nuclear power plant "Fukushima" has also played a leading role in Europe's gas preferences.
Azerbaijan managed to create a complete gas infrastructure for a short time. Signing an agreement between Azerbaijan and Turkey to build the Trans-Anatolian gas pipeline (TANAP) to transport Azerbaijani gas to Europe must be stressed.
So, the sharply increased prices on hydrocarbons, increasing global interest in gas as the cleanest and most economical kind of fossil fuels, the availability of gas infrastructure - three main factors stipulating the interest of large companies to the previously explored fields in an attempt to find not only oil, but gas.
There are many eexamples of potential investors' returning to once explored oil and gas fields in Azerbaijan. BP has recently offered SOCAR to study shoal around Absheron. "Statoil" signed an agreement with SOCAR to assess geological and geophysical data on the shallow area in the north-west of the Absheron peninsula, by using modern technologies in June.
"Nakhchivan" field is closely monitored by the German RWE. India's ONGC Videsh Limited has expressed an interest to the exploration and development of Babak prospective structure. These examples have been made public, but it is unknown how many confidential talks are being held on the topic.
/
Trend
/