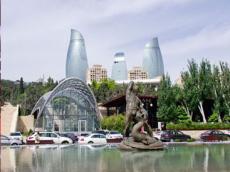 "Maccaferri" Company, the leader in the business of specialized components for the geotechnical engineering and soil erosion control, with more than 125 years of experience in this specific field "is interested in establishing close relations with the Azerbaijani engineering companies", the executive officer of the company Frunze Bekov told AzerTAc correspondent.
Presenting new projects of the company at the International Congress and Exhibition "Tunneling and underground infrastructure of cities" held in Baku, Mr. Bekov also spoke about the activity of the company represented by him.
Maccaferri, an international erosion control company founded in 1879, is a worldwide leader in erosion control and soil stabilization solutions. Maccaferri's mission is to research, design and develop advanced solutions for erosion control and soil stabilization in sectors of applications like roads, railways, rivers, channels, landfills, coastal protection, and civil construction.
Maccaferri is a world leader in engineered environmental solutions: it`s expertise includes solutions in retaining wall systems (gabion, geogrid), reinforcement of steep slopes, embankments, drainage systems, rockfall protection and soil erosion protection and coastal protections.
As part of a worldwide industrial group, Maccaferri has more than 130 years experience in soil stabilization. Traditionally known for double twist Gabions and Reno mattresses, Maccaferri has extended its product range significantly over the last decade, enabling us to offer an unrivalled range of wire, geosynthetic and natural fiber products to the construction industry. Recently, Maccaferri has added new products for Coastal Protection, Fiber Reinforced Concrete and Mining.
/
AzerTAc
/