Today.Az

»

Sports » Baku hosts table tennis tournament to pay tribute to Black January victims


23 January 2023 [12:48]

- Today.Az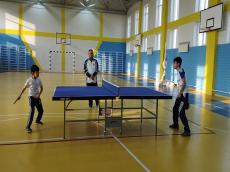 BrendSport has hosted a table tennis tournament to pay tribute to Black January victims, Azernews reports.
At the opening ceremony, the event participants honored a memory of Azerbaijani martyrs with a minute of silence.
Head of BrendSport Bahruz Samadov and presenter Nurana Andronova noted that January 20, 1990, went down in history as Black January, is not only a Day of Sorrow for the Azerbaijani people but also a Day of Honor, leading the people to independence.
This is a heroic page in the history of the struggle for Azerbaijan's independence and territorial integrity.
Despite the fact that years have passed since these bloody events, the Azerbaijani people never forget that terrible night, expressing their deep hatred for those who committed this tragedy.
On the night of January 19-20, 1990, without a prior declaration of a state of emergency, the Soviet army entered Baku from four directions of the capital, opening fire at civilian protesters, killing 147, gravely wounding 744, illegally arresting and taking to unknown direction 841 people. Moreover, 200 apartments, houses, and personal and state properties were destroyed.
In his speech, a veteran of the 44-day Patriotic War, Jeyhun Kalbiyev, emphasized that one of the most glorious pages in the centuries-old history was written under the leadership of victorious Supreme Commander-in-Chief Ilham Aliyev.
At the heart of the victory in the Second Karabakh War are the heroism and patriotism of Azerbaijani soldiers and officers, the valor of the martyrs who, at the cost of their blood, liberated Azerbaijani lands after almost thirty years of Armenian occupation.
The competition among young table tennis players was held according to the Olympic system. Among boys, the first place was taken by Mahammadali Samadzada, and among girls by Zahra Rahimova.
The winners and prize-winners were awarded diplomas, medals, and valuable prizes.
Media partners of the event are Azernews.Az. Trend.Az, Day.Az, Milli.Az.