Today.Az

»

Society » Renowned photographer spreads truth about Khojaly Massacre in Belgium


06 June 2023 [15:20]

- Today.Az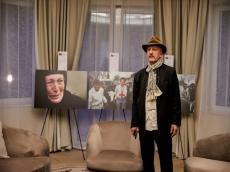 By Azernews
Laman Ismayilova
Azerbaijani Embassy in Belgium has organized a photo exhibition of the world-famous photojournalist Reza Deghati called "Khojaly: Wounded Souls" in Brussels.
A minute of silence was held in memory of the people who lost their lives as a result of the devastating earthquakes that occurred in Turkiye, Syria and the city of Khoy, Azernews reports.
The Azerbaijani Ambassador to Belgium Vagif Sadigov spoke about Khojaly Massacre, which took the lives of 613 civilians.
On the night of February 26, 1992, Armenian armed forces, directly supported by the 366th regiment of the former USSR, stationed at that time in the town of Khankendi in Nagorno-Karabakh region of Azerbaijan attacked, from five directions, the town of Khojaly.
Some 613 civilians, mostly women and children, were killed in the massacre, and 1,000 people were disabled. Eight families were exterminated, 25 children lost both parents, and 130 children lost one parent.
Moreover, around 1,275 innocent people were taken hostage, and the fate of 150 of them remains unknown.
In his speech, Reza Deghati noted that he left architecture, which was once his main art, and engaged in photo-journalism precisely because of his love for humanity, and noted that he believes that spreading the truth through culture and art is the most powerful tool.
He stressed that wars, natural disasters, and crises that cause the death of people, the destruction of buildings, historical monuments, and vital infrastructure leave irreparable wounds in the memories of the survivors.
Representatives of the diplomatic corps, officials of the European Union, Belgium academic circles and many others, who attended the opening ceremony, showed great interest in the exhibition.
The photo exhibition was followed by a concert dedicated to the memory of the Khojaly tragedy victims.
Trio Manestri created in Belgium by talented pianist-composer Nazrin Afandiyeva, grandson of Azerbaijan's prominent composer Fikrat Amirov, left no one indifferent.
The concert program included Azerbaijani folk songs, works by Fikrat Amirov, Anze Rozman, Ludovico Einaudi, Nazrin Afandiyeva's music piece "613 memories" as well as "Azerbaijan miniatures", composed especially for this event.