Today.Az

»

Society » Meeting held in framework of "World Breakfast Day" at Turkish Embassy in Azerbaijan


04 June 2023 [15:05]

- Today.Az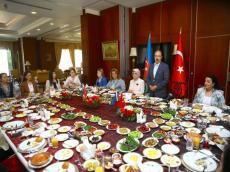 On June 4, a meeting was organized at the Turkish Embassy in Azerbaijan within the framework of "World Breakfast Day," Azernews reports.
Turkiye's Ambassador to Azerbaijan Cahit Bagci and his wife Leyla Bagci invited female members of the Milli Majlis to breakfast on this occasion.
Cahit Bagci greeted the guests and said that this meeting coincided with significant days. He said that Azerbaijani President Ilham Aliyev's participation in the inauguration ceremony of Turkish President Recep Tayyip Erdogan on June 3 and their brotherly embrace as always reflects the wonderful relations between the two countries, but also a message to the world.
"We will move forward confidently on the road to Turkish unity," Cahit Ba?ç? emphasized.
Hijran Huseynova, chairman of the Family, Women's and Children's Affairs Committee of the Milli Majlis, pointed out that Azerbaijan is as happy as Turkiye at the victory of Recep Tayyip Erdogan in the presidential elections. The chairman of the committee emphasized that the elections in the brotherly country were held under very democratic conditions.
The breakfast was held in a friendly atmosphere and discussed topics of interest to both countries.
We should note that "World Breakfast Day" adopted by UNESCO two years ago is celebrated on Sunday of the first week of June.
Breakfast culture, which greatly contributes to the promotion of Turkiye, is also noted in foreign representations.