Today.Az

»

Politics » Moscow claims normalization of Baku-Yerevan relations its priority


30 January 2023 [17:59]

- Today.Az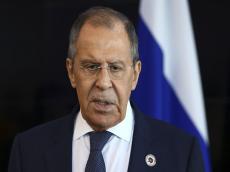 The normalization of relations between Baku and Yerevan is a priority for Russia, Azernews reports, citing Russian Foreign Minister Sergei Lavrov's news conference on the results of 2022.
"Russia, which has direct borders with South Caucasus, is interested in the stability and prosperity of this region, the mutually beneficial use and disclosure of its transport and logistics, trade and investment, and technological opportunities," the minister said.
He noted that Russia is intensively working to overcome the accumulated conflict potential in the region.
"In this regard, one of the priorities is the normalization of Armenia-Azerbaijan relations. The foundation for this is the statements of the leaders of Russia, Azerbaijan, and Armenia of November 10, 2020, January 11, 2021, November 26, 2021, and October 31, 2022. We are convinced that the success of the process depends entirely on the strict adherence to these trilateral agreements," the foreign minister noted.
Sergei Lavrov also touched on the 3+3 Consultative Regional Platform. He stated that Russia aims at promoting the work of the 3+3 Consultative Regional Platform (Azerbaijan, Armenia, Georgia, Russia, Iran, and Turkiye), launched in December 2021.
"We consider this platform useful and timely, which aims to focus on the practical issues of strengthening cooperation in accordance with the interests of regional players. As for the normalization of relations between Ankara and Yerevan, it was started under the patronage of Russia. In January 2022, the special representative of Armenia, Ruben Rubinyan, and the special representative of Turkiye, Sardar K?l?ç, met for the first time in Moscow. Today, we are in close contact with both of them. We welcome the recent events that open prospects for the restoration of the Armenia-Turkiye relations, which will contribute to the further improvement of the regional situation," the Russian foreign minister said.
He also said that Russia welcomes Azerbaijan's active involvement in Eurasian integration processes,
"Baku successfully hosted a series of expert events dedicated to the Eurasian theme in 2021-2022, in particular, the strengthening of ties between Azerbaijan and the EAEU [Eurasian Economic Union]. A landmark event in this regard was the XV Eurasian Economic Forum, held in Azerbaijan in October 2022. We are confident that further steps in this direction fully meet the interests of the republic located in the center of the Eurasian continent," the minister said.