Today.Az

»

Weird / Interesting » AIBO robot dogs won hearts of Japanese


02 March 2015 [15:30]

- Today.Az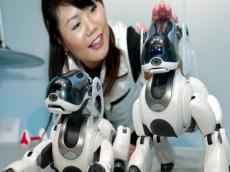 'AIBOs' robotic dogs were the world's first home-use entertainment robots, sold in Japan by Sony Corp. between 1999 and 2006. Equipped with Artificial Intelligence (AI), these dogs were capable of developing their own personality, making them all the more endearing to their owners. So much so, in fact, that when they break down, the owners bury them with a proper funeral service, just like they would a real pet!
To understand the strange practice of burying a robot, you've got to understand exactly how popular Aibos are in Japan. When Sony rolled out the first generation Aibo in 1999, the initial batch of 3000 units were sold out in 20 minutes flat, in spite of the $2,000 price tag. In the following years, over 150,000 units of various Aibos models were sold.
But Sony was in trouble in 2006, so Aibo, the expensive luxury pet, was discontinued. The company did keep their 'Aibo Clinic' open until March last year. But then they decided to further cut costs by shutting down the maintenance unit, and owners had to look elsewhere for help with spare parts. Unfortunately, they are hard to come by, which means that when Aibos dogs break down, most of them leave their owners forever.  So the only option for the owners to deal with the loss is by organizing a real funeral.
The funerals held for the 'dead' Aibos are quite similar to any other in Japan. The dogs are lined up on the altar, each wearing a tag to show where they came from and which family they belonged to. "I believe owners feel they have souls as long as they are with them," said 59-year-old Nobuyuki Narimatsu, who heads an electronics repair company specializing in fixing vintage products.
70-year-old Hideko Mori, for instance, had her Aibo pet for around eight years, and always treated it like a real dog. "He doesn't require feeding and he doesn't pee," she said. "I never thought there was a limit to his life." But in May last year, her beloved Aibo stopped moving. She tried to get it fixed, and even sent an email to Sony on behalf of the dog: "Do I have no choice but to die like this because I can't walk?"
Thankfully, the engineer who read the email introduced Hideko to A FUN, a company that employs former Sony engineers – they were able to fix the robot in two months. "I was so happy to see him back to health at home," she said.
61-year-old Hiroshi Funabashi, who supervises repairs at A FUN, said Aibo owners regard him more as a doctor than an engineer. "The word 'repair' doesn't fit here," he said. "For those who keep Aibos, they are nothing like home appliances. It's obvious they think their (robotic pet) is a family member. "I don't know if people will develop affection (towards a new generation of robots) in five, six years' time," said Funabashi. "But I think we need to recognize they are not ordinary electrical devices."
The only source of genuine parts for an ailing Aibo is from 'dead' robots. But it's tough to get access to these parts, so repairs could take anywhere between a few weeks to a couple of months to complete. In some cases, even that isn't possible, and the owners have to come to terms that their much loved robots are 'dead'. This is especially tough for the Japanese, who really consider robots to be man's best friend.
Sumie Mekawa, 72, said that since she and her husband have no children, they call their Aibo 'Ai-chan' and treat it like a daughter. She talks to the robot every day, travels with it and makes clothing for it. And she has an agreement with her husband – whoever lives longer will ultimately be cremated alongside the dog. "I can't imagine how quiet our living room would have been if Ai-chan wasn't here," she said. "It will be sad when the day finally comes when Ai-chan is unable to stand up."