Today.Az

»

Weird / Interesting » Apple Variety Aptly Named 'Surprize' Hidest Pink Surprise Inside


27 October 2014 [16:59]

- Today.Az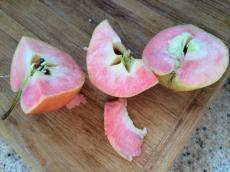 As it turns out, 'Surprize' apples have actually been around for a while now. According to Wikipedia, the variety began circulating around Europe sometime before 1831,  when it was reported growing in the London Horticultural Society Gardens. It has since been cultivated in various countries and has been used to create other pink-fleshed apple varieties, like 'Pink Pearl'.
Sources: Tesco, Telegraph.co.uk
/Odditycentral.Com/