Today.Az

»

Business » Pakistan to purchase cheap LNG from Azerbaijan


04 June 2023 [11:00]

- Today.Az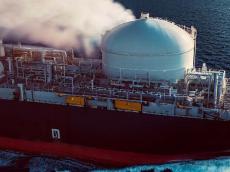 In a concerted effort to steer clear of costly liquefied natural gas (LNG) purchases from the global market, the ministry of petroleum officials have announced plans to enter into an agreement with Azerbaijan's state-owned company, Azernews reports, citing foreign media outlets.
As per the agreement, Pakistan will buy one LNG cargo per month from the Azerbaijani company, providing a viable solution to mitigate escalating energy costs.
The ministry officials have confirmed that an agreement is imminent, allowing for the purchase of one LNG cargo every month from the Azerbaijani company.
Following the approval of the Prime Minister Shehbaz Sharif, a summary was swiftly dispatched to the Economic Coordination Committee (ECC), ensuring the necessary procedural steps are taken to finalise the arrangement.
The government has prioritised establishing a direct gas purchase framework between Pakistan and State Oil Company of the Republic of Azerbaijan, largely known by its abbreviation SOCAR.
The company has committed to providing LNG to Pakistan at a rate 30% lower than the prevailing market prices.
This significant reduction in costs is expected to alleviate the financial burden and support Pakistan's long-term energy sustainability goals.