Today.Az

»

Analytics » Baku International Sea Trade Port taps on Singapore's experience


21 September 2015 [15:00]

- Today.Az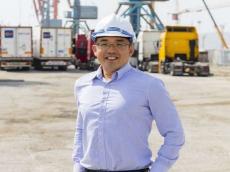 By Gulgiz Dadashova - AzerNews 
Eugene Seah has recently joined the Baku International Sea Trade Port as Chief Operating Officer. He has 25 years experience in port management, operation and planning. Before joining the Port of Baku, he was Vice-President for commercial affairs of Jurong Port in Singapore.
Question: Can you tell us more about yourself? Why did the Baku International Sea Trade Port hire you?
Answer: First of all, I would like to thank the Baku International Sea Trade Port (i.e. the Port of Baku) for giving me this once-in-a-lifetime opportunity. To answer your question, I have worked in the port industry for the major part of my career. I have 25 years of port experience, having worked in two premier ports in Singapore, PSA Container Terminals and Jurong Port. During my stint in PSA, I have managed terminals in Singapore, Middle East and China. I was involved in the planning of new port terminals in Pasir Panjang and Jurong Port. Before joining the Baku International Sea Trade Port, I had held appointments at the senior management level in both Operations and Commercial in Jurong Port. In Jurong Port, I was the Vice–President, covering all aspects of commercial and operations in the general cargo, bulk and container terminals.
This new appointment, I think, fits like a glove requiring me to draw on my past experience and technical knowhow to get the job done. In Singapore, I dare to say, we are one of the leading ports in the world, and I do hope to bring in the best practices and apply these processes to the new Port of Baku in Alyat. The challenge is to put everything into context, that is, how the operations are run and would be run in the new Port, as in any processes they are both internal and external dependencies that are intricately linked. At the end of the day, my task is to optimize transport and logistics related operations in the port with the introduction of new operation management structures and smart application of customized software and hardware.
Why did the Port of Baku hire me? From my perspective, based on my two prior visits to Azerbaijan, through interactions with the senior management team, they perceived me as being up to the challenge and tasks at hand. At the same time, with my links and network with Singapore, I can draw on other areas of expertise through private and government channels. For example, together with Dr. Taleh Ziyadov, Director-General of the Port, we have established important linkages with a number of Singaporean companies and we soon plan to sign an MOU with the Singapore Cooperation Enterprise, which is the leading state agency in Singapore that helps foreign governments and corporations meet their developmental objectives by working closely with Singapore's public and private sector expertise. This MoU will allow the Port of Baku to develop the strategic plan for the new Port and Logistics Zone in Alyat and strengthen its cooperation with Singaporean companies.
Q.: Can you tell us what attracted you in this job/assignment?
A.: I came to know of the new Port of Baku project when I first met Dr. Taleh Ziyadov in April of this year when he visited Singapore's Jurong Port. He made a presentation on the new Baku International Sea Trade Port at Alyat and talked about how the development of this Port fits into the framework of Azerbaijan's Hub Strategy Framework. He stressed that this project was a vision of the President of Azerbaijan to turn the new Port of Baku at Alyat into a key transport and logistics hub in Eurasia, which will also contribute to the diversification of Azerbaijan's economy. I was intrigued by this "hub" strategy. This fuelled my interest and I realized it is a once-in-a-lifetime opportunity to be part of this grand strategy of positioning Azerbaijan as a catalyst to restore Azerbaijan's historical position as a commercial hub along the ancient Silk Road. Prior deciding to take up this appointment, I visited Azerbaijan twice to see Baku and the Port and to assess this vision firsthand. I also travelled to Alyat and was impressed by the scale of what was being planned. As you know, the new Port of Baku at Alyat is allocated 400 hectares (ha) of land, of which about 100 – 115 ha is dedicated to the development of the international Logistics and Trade Zone. The northern areas around the port are reserved for future expansion for logistics, industrial, and manufacturing activity.
Q.: How do you rate the success of this project?
A.: I think, this is a grandiose project that will be a game changer for the Euro-Asian trade as well as for Azerbaijan's non-oil economy. Needless to say, I was impressed! All I can say is that I believe in your President's vision for Alyat and I think this vision is realistic and I can contribute to the realization of it. I am very happy that now I am a part of this exciting journey.
The Baku International Sea Trade Port is the oldest and the largest port in the Caspian Sea. Because it has been located in the middle of the city, the Azerbaijani government decided to move it to a new location 70 km south of the capital Baku near a small town called Alyat. As you know, Alyat is within the boundaries of the Greater Baku and it is located at the strategic crossroads of the regional railroads and highways. All of Azerbaijan's main rail and highways meet in this location. It's important to note that the new site is in close proximity to Iranian market (200 km), Russian market (250 km), Turkish market (1,000 km), Central Asia (300-400 km), and West China (about 3,000 km). In other words, this is not a local development but a regional one that will become a major distribution center for larger markets in Eurasia.
On the international front, the Silk Route Economic Belt initiative, coined as the "One Belt, One Road" - a development strategy started by the Chinese government in 2013 - that will link China with Europe through Central and Western Asia increases the chances for success of our project. On August 11th 2015, China recently pledged US $40 billion to the Silk Road Infrastructure Fund designed to improve trade and transport links along this route. Obviously, some leading Chinese companies are also interested in our port and logistics zone.
On the national level also this project cannot fail. It is critical in terms of economic diversification to shelter the economy of Azerbaijan from the falling oil prices. More importantly, we have the President's support and he views the new Port of Baku at Alyat as the future transport and logistics "hub" of Eurasia. I believe with his support we would be able to establish the framework for our hub strategy - which is to have a solid legal regime in the new Port to promote intermodal transshipment trade and value added services in Alyat, which is a key success factor. Furthermore, currently the Port is going through restructuring and under the leadership of the Port's Director-General a solid management structure had been put in place. The management team is made up of long-term professionals specialized in their respective areas and we aim to bring the best-case practices and knowhow to this project. This is important for setting up a new culture and a new mindset of discipline, focus, innovation and determination.
To emphasize the point again, President Aliyev views the new Port of Baku at Alyat as the future transport and logistics hub of Eurasia. Next year, the new railroad connecting Azerbaijan-Georgia-Turkey and Europe (i.e. Kars-Akhalkalaki railroad) will be operational, thus connecting China with Europe through Azerbaijan. As you know, on August 3rd, we welcomed the first container block train from Western China in our new Ferry Terminal. This was a test run in preparation for the above China-Europe rail link. Mind you that the train came from China to Baku in just 6 days!!!
Hence the success of this project is given and the question is when all the moving parts can come in place to set the belt moving.
Q.: What is the single most important criterion for ensuring operational efficiency in a new terminal?
A.: We can have the best systems in place and spend millions of dollars to buy state of the art equipment, but if you do not have people to manage the systems and maintain the equipment, it will all come to nothing, as you would not be able to have a sustainable level of efficiency and productivity that will meet the demands of your business and ultimately fulfill the customers' requirements. You must have in your management staff, what we would like to call "smart creatives," people who are smart enough to think through a problem and come out with a solution without having to be told to do so especially when one sees that a problem needs correcting. In short, getting the right people in the right places is one of the keys to ensure success.
Q.: Could you please tell us more on what has been done at the Port of Baku so far and when do you plan to move your operations to the new Port in Alyat?
A.: Since the construction of the new Port in Alyat is still ongoing, we have begun our preparation work in the old Port of Baku in downtown. We have already started improving the operations and safety by reengineering some of the key processes, identifying people to take care of critical processes for the current port to set the foundation when we move our operations to the new port. This is important to show our potential customers that we have the capability to make it work. We also train staff at the port on new processes in the world and we believe in value adding to build up the capability of the people through structured training and mentoring.
The construction of the Phase 1 in the new Port of Baku in Alyat is planned to be completed in 2017. The priority is given to the construction of the Ro-Ro terminal before the end of 2016. This is the main terminal for moving large trucks (TIRs) that travel between Turkey and Central Asia.
Q.: Is Baku, Azerbaijan your first experience working overseas?
A.: No, I have worked in Aden, Yemen when I was in PSA, and when was in Jurong Port, I was posted to Hainan, a multi-purpose port handing containers and break-bulk in China for a period of 6 months. In Aden, I was involved in the conceptualization of a new terminal to replace the existing one; and, in China, I was posted to look at the business strategy and optimizing the operations to gear up for future growth.
Q.: Do you like Baku? What are your impressions?
A.: What interesting and unique about Baku is that it has a particular charm which I fell in love with, the first time I arrived. At one of my visits, I had the opportunity to stay in the old city, which is a Unesco World Heritage site, and deserving so. Sometimes it feels like walking back in time with its ancient mosques and minarets and Baku's most famous landmark Giz Galasi, the Maiden Tower. On the other hand, throughput Baku, the new and old mingle side but side but nowhere more than here, which makes it so charming.
Staying in the old city, I love exploring the winding narrow streets with their balconies covered with grape vines and a different view at every corner, and if you are not careful, you may also lose your sense of where you are. I also love the fountain square in downtown Baku. I have never seen so many fountains in so many different styles and especially at night the colors just come alive. In general, Baku is a cosmopolitan megapolis deserving to be a major "hub city" in Eurasia. Most of all, I like Azerbaijani people, they are hospitable, friendly and helpful.
Q.: So you do not regret coming to work here?
A.: My only regret is leaving my wife and family at home. I have two wonderful kids Sophia and Samuel; ages 7 and 11 years old. However, I am planning to bring them over as I consider this opportunity to work here as a long-term commitment and I would very much like to see Azerbaijan succeed in its goal to be a hub for the region in his quest to be largest 'industrial and logistics zone; in the Caspian region.
Q.: What are your hobbies and how do you spend your free time in Baku?
A.: I am a sporting person. I love the outdoors and countryside and I think Azerbaijan is the perfect place to pursue my outdoors pursuits. I have taken part in a couple of ironman races in my home country, Australia and Malaysia. If I have the time, and if Azerbaijan has such a race, I definitely would consider taking part.
I also enjoy golf and I had the privilege to play at the Azerbaijan National Golf Course at Quba; the course was tough but I enjoy the challenge with its narrow fairways and exhilarating views of the surrounding countryside. It was a wonderful experience.