Today.Az

»

Analytics » Europe should ensure gas pipeline security


16 September 2015 [10:36]

- Today.Az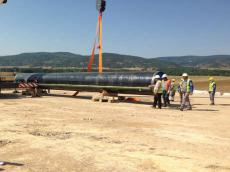 By Aynur Karimova
Growing tensions in the greater Middle East jeopardizes not only peace and security here, but also tends to undermine energy security plans.
Turkey's involvement in anti-terror operations in its southeast have made the country the target of attacks, posing great danger to major transit pipelines across its territory. Repeated blasts along the Baku-Tbilisi-Erzurum pipeline in August raised considerable concerns from consumers over the security of the blue fuel routes.
Dispelling concerns, officials have on numerous occasions ruled out any possible delay in the construction of energy projects realized in Turkey, especially the construction of the Trans-Anatolian Natural Gas Pipeline (TANAP).
Joint air strikes by the anti-terror coalition targeting militants from the country's strategic Incirlik base in fact weakened the security capacity of the natural gas pipelines running from Azerbaijan's Shah Deniz field.
The fragile energy security of Europe now requires ensuring the safety of the Southern Gas Corridor -- a priority energy project for the EU -- that envisages the transit of gas from the Caspian Sea region to European countries through Georgia and Turkey.
This ambitious project aims to diversify the routes and sources of energy supply that will enhance Europe's energy security. The Southern Gas Corridor project will ensure Caspian gas supplies to European markets for the first time in history.
At its initial stage, the primary source of gas for the pipeline will be from Stage 2 of the Shah Deniz field. Other sources could also connect to the pipeline at a later stage.
As part of the second stage of development of the field, gas will be exported to Turkey and European markets via an expanded South Caucasus Pipeline and the construction of both the Trans-Anatolian and Trans-Adriatic pipelines.
TANAP is designed for the purpose of transporting gas from Azerbaijan's Shah Deniz field from the Georgian-Turkish border to the western borders of Turkey. TANAP's initial capacity is expected to reach 16 billion cubic meters of gas per year. Around six billion cubic meters of this gas will be delivered to Turkey and the rest of the volume to Europe.
Shah Deniz gas will reach Turkey in 2018, while Europe will be able to receive it in early 2020 after the construction of its major component, TAP.
European energy independence begins with the delivery of Azerbaijani natural gas. So, if Europe wishes to get rid of Russian dependence while avoiding Russian territory and infrastructure, it should be even more interested in ensuring the security of pipelines that bring natural gas from the Caspian Sea to European consumers.
A large and unexpected inflow of Syrian refugees and worsening relations with Moscow should be a major signal to think twice about energy security.