Today.Az

»

Analytics » Gadgets impact children's lives negatively


10 December 2014 [10:33]

- Today.Az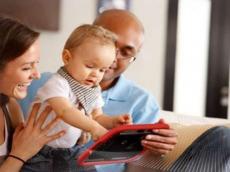 By Amina Nazarli
I wonder what if once, waking up, people could not find their gadgets in their homes? Could you imagine the world without up-to-date devices only for one day?

To my mind, it is impossible, because mobile phones, laptops and tablets have become a part of our life. We sleep, wake up and even eat with them.
Their abilities make our life much easier. They save our time, increase social circles and help get more information about the world and, finally, they broaden our horizons.
These devices' design and functions are made so wisely, that not only adults, but also preschool children have their own phones, which have turned into a toy in their hands.
Toddlers use gadgets before they can even talk. Little kids find something interesting for themselves: gadgets' colorful games, lights and dynamic short films hypnotized little babies. And this fact is to some parents' advantage that their children will sit quietly for a long time and then can run for their errands easily.
It's an epidemic. Going to any family restaurant or sitting in the buses you will be surrounded by kids, ranging from toddlers to teens.

Children are much better versed in the new gadgets than their parents. Just give a two-year old kid any tablet or smartphone and after a few minutes he or she will play as a professional with a new "toy".
The modern technology is really very useful for parents and children. Parents who are busy at work are always concerned about their children. Thus, they have a chance to contact their child, whenever they wish to learn their location or well being. Or if a child is in a difficult situation, he or she can always call his/her parents.
But what are the negative impacts of excessive usage of these devises? Many people are arguing about the advantages and disadvantages of these "magic" devices. But do not forget that too much water drowned the miller.
Even, Steve Jobs, a founder of the most popular gadget "Apple" did not allow their children to spend much time with iPad.
It may seem that at Jobs' house, iPads were given instead of candies for the guests. But it is not so.
Job said that he sees the danger of the Internet overuse like no other. "They do not use them. We limit the time our children spend playing iPad," he noted.
These devices are a source of pleasure for children and a matter of concern for some parents. Yet these devices could be having a significant impact of the mental health of young people.

First of all, if a child is sitting the whole day on the Internet or playing computer games, then his or her vision deteriorates. Doctors say that vision of little children deteriorates very quickly, about during half a year. Unfortunately, its restoration in many cases is impossible.
Another disadvantage of modern technologies is a sedentary lifestyle. Children, who constantly play computer games almost do not move. Here, there is a risk of one of the most dangerous diseases of our time, obesity of which 30 percent of population suffer from. Moreover, they slouch, staring at screens which cause a curvature of the spine in children.
In most cases, parents themselves create the conditions that their children to play mobile devices. For some of them, mobiles are like a distractive device. They give a phone to the hands of their year-old child and thus can feed their babies without vagaries.
We live in an embrace with gadgets changing our child's behavioral condition. They also inhibit the child's brain development, aside from the fact that they make children lazy, aggressive and dependent zombies, eventually leaving a child behind the real life preventing him/her to distinguish the imaginary world from reality.
Doctor Gular Mammadova said in an interview to AzerNews.az that she agrees that new devices make our life easier.
"That's right that up-to-date technologies positively affect our life. There is sufficient information on Internet, which people can enjoy using laptops, tablets and telephones."
However, she also added that helping us on the one hand, it takes another thing - our health. She strongly recommended parents to keep their children away from the gadgets.
"I agree that adults can take some benefits from these gadgets, but children under six, who cannot even read will not take the same benefit," she said. "Even adults should not spend more than two hours in front of a computer. But children under six should spend only 20-25 hours, not more."
Mammadova noted that children consider gadgets as "friends", without knowing that these unreal "friends", separate them from their real ones. "These gadgets negatively affects children's nervous system, make them aggressive and sleepy," she stated.
Here, much depends on parents, she said. The doctor advised them to attract their child's attention on something much important such as sport and to giving them a chance to choose something they really enjoy.