Today.Az

»

Analytics » Armenia to face growing inflation next year


03 December 2014 [14:20]

- Today.Az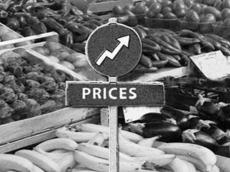 /AzerNews/
By Mushvig Mehdiyev
The fluctuation of national currency in Armenia may lead to a catastrophic price hike in the country next year.
Recent days were of great importance for Armenians as they observed an increase in the prices of bread, dairy products, meat and walnuts, according to Armen Pogosyan, Head of Armenian Consumers Union.
"Pre-holiday price hike is a tradition in our country. Moreover, fluctuation of the currencies trigger a surge in prices. Drop in solvency is directly linked with the price hike - that's an economic rule," Pogosyan said.
He added that inflation will be inevitable after integration into the Eurasian Economic Union on January 1 this year.
"Prices of nearly 60 percent of the goods on domestic markets will go up given different customs duties of Armenia and the EEU," he noted.
Armenia is hit hard by the Russian ruble's recent devaluation, being under serious threat of an economic collapse. Its economy received a fatal blow due to the ruble's significant influence on the money transfers and exports. Remittances from Russia fell by 20 percent in October, while export, which is mainly focused on Russian markets, is going down given the weakening purchasing power in the northern giant.
Economist Vilen Khachatryan revealed another side effect of the currency fluctuations in Armenia. He believes that the poverty rate in the country will increase amid agitated ups and downs of the dollar, euro, ruble and dram.
According to Khachatryan, a considerable part of the overall loans in Armenia increased in dollar and this in turn puts the borrowers under serious risk.
"Salaries of the borrowers are not expected to rise in near future, eventually, their insolvency will fall and they will be forced to repay more interest," he said.
Armenian National Statistics Service's recent data said the poverty rate in the country was 32 percent in 2013. Financial Ranking of Armenian Banks bulletin claims that the total volume of the bank loans was over $2.5 billion in Armenia in 2013. Meanwhile, the share of the foreign currency loans in the total loan portfolio of the Armenian banking system was 60 percent.
As of December 1, the average rate of dollar against dram is 436.5 dram per $1, while the euro is 543 dram per 1 euro and the ruble is 8.6 dram per 1 ruble.
Meanwhile, the Russian media reported that the EEU may ban interstate interactions in dollar and euro within its territory, planning to apply it only on the national currencies of the member-states by 2025-2030.
Russian economic expert Alexander Murichev said the union may initiate a concept on the creation of a common payment infrastructure for the member-states, which will allow to make payments in a united common system of the national card payment systems.
Russia's Deputy Prime Minister Igor Shuvalov has earlier said the application of a single currency within the EEU territory was inevitable.