Today.Az

»

Analytics » Georgia's Garibashvili to visit Ukraine


02 December 2014 [13:20]

- Today.Az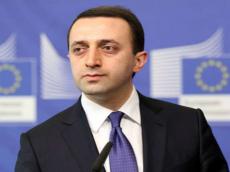 /AzerNews/
By Mushvig Mehdiyev
A delegation of high-ranking Georgian officials is expected to visit Ukraine, said the newly appointed Spokesman for the Foreign Ministry on December 1.
The delegation will be led by Prime Minister Irakli Garibashvili, and although the date of the visit has not been decided yet, it would happen in the near future, David Kereselidze added.
"We are waiting for the formation of Ukraine's Ministerial Cabinet. This will be a high-level official visit, so we have to be ready to talk on many issues," Kereselidze noted.
Ukraine will reportedly announce its new Cabinet of Ministers on December 2.
Kereselidze went on to say that bilateral political consultations were held in Kiev on November 27, when a delegation led by Georgia's Deputy Foreign Minister David Jalaghania visited Ukraine.
"A series of events are planned to boost cooperation between the two countries, so that they can become even more active and coordinated with regards to issues such as EU integration. Georgia and Ukriane are also trying to consolidate the international society's support against the threats coming from Russia," he said.
Members of Georgia's Cabinet of Ministers will accompany Garibashvili on his visit to Ukraine.
Georgia and Ukraine have suffered similar fates, as both countries faced strong pressure by Russia amid their integration into Europe. Russia annexed Ukraine's Crimea peninsula in March, 2014, while Georgia's breakaway Abkhazia region signed a partnership accord with Russia in November. Georgian authorities said Abkhazia's approximation to Russia was annexation of the separatist region and violated the South Caucasus country's territorial integrity.
Western forces, particularly the European Union and NATO, firmly support Georgia and Ukraine, and all western players have denounced the so-called agreement between Russia and Abkhazia. NATO promised to accept both countries as member-states as soon as they fulfill the alliance's requirements.
Meanwhile, media reports claim that Georgia's ex-President Mikheil Saakashvili was offered a seat in Ukraine's government. Ukrainian authorities wanted to appoint Saakashvili deputy prime minister and head of the country's anti-corruption bureau.
Georgian Foreign Ministry didn't confirm the reports, saying that Saakashvili's joining the Ukrainian government would create an unpleasant progress in positive relations between Georgia and Ukraine.