Today.Az

»

Analytics » Azerbaijan turning into attractive destination for job hunters


12 November 2014 [17:39]

- Today.Az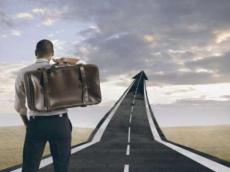 /AzerNews/
By Amina Nazarli
A desire to have a better life and new opportunities drives us to leave our homeland. When we come to this conclusion that our future can't be realized in our country, the desire to leave the country gains momentum.
Today, about 232 million people are living outside their homelands. People migrate for many reasons, including economic, political, and environmental or joining a family member.
If for some migrants it is a positive experience, for many others migration is associated with the violation of their human rights, discrimination and exploitation.
If ten years ago, Azerbaijan was considered a transit to migrate to Europe, now it has become a hub for migrants.
Dynamically developing Azerbaijan offers a competitive labor market for job hunters. It has become more and more attractive to foreigners with its successful economic development.
Political stability and safety is a major component making the country more interesting for migrants,
Being one of the safest countries in the world is the main reason intriguing migrants to choose the South Caucasus country as their final destination. With its domestic and external stability, Azerbaijan is included in the list of the countries which are interesting for migrant workers.
Tolerance is the main pillar of politics in Azerbaijan, where many religions co-exist in peace.
The reforms carried out in recent years in the socio-economic sphere in Azerbaijan have led to rapid development of the country.
Migrant workers are mainly attracted in those spheres which have been newly established and need foreign experience. They help meet the demands for rare specialists.
Most of the migrant workers are fixed in the construction sector. The intensive construction boom in the country in recent years has evolved a need for "new working hands."
Such spheres as ICT, tourism, hospitality and education are also attractive industries for migrants.
The leading sector of the economy in Azerbaijan is still production and refining, which needs qualified specialists.
The foreign migrant workers come from different countries, mainly from Turkey, UK, China, India, Iran, Georgia and Russia.
The State Migration Service, established in 2007, provides various services to migrants, including in the electronic format.
There are necessary conditions for legal residence of migrants in line with international standards, Head of Citizens Labor Rights Protection League Sahib Mammadov said.
Their family members enjoy a right for free education and medical services.
The Law "On labor migration" says that every legal and physical person in Azerbaijan have the right to hire a foreigner on the basis of a special permit issued by the Ministry of Labor and Social Protection of Azerbaijan.
Every foreigner, reaching the age of 18, may arrive in Azerbaijan to engage in a paid job.
A migrant worker may take any position only in the case if an Azerbaijani citizen does not target that position.
All migrants wishing to get a job in Azerbaijan must pay a certain state tax and obtain a permit to engage in such activity.
The number of foreigners and stateless persons who are allowed to stay for a year in Azerbaijan to work stand at 12, 000 while it was 9,815 in 2011.