Today.Az

»

Analytics » Political elite in Armenia intimidating teachers


29 October 2014 [12:21]

- Today.Az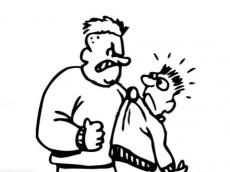 /AzerNews/
By Mushvig Mehdiyev
A teacher in Armenia has returned his teaching license saying he wants to have absolutely nothing in common with the ruling authorities.
Chess teacher Narek Varazdatyan said he gave back the teaching license he was given by the National Chess Academy's Director and Education Minister. "If criminals are appointed to vice rector and mayoral posts in this country, I don't have to do something with the government," he noted.
Varazdatyan ireful words hinted to the recent appointment of Sevak Khachatryan to the vice rector post at the State Economic University and Suren Khachatryan's return to Syunik region's mayoral cabinet.
He said if criminals were sitting at the vice rector and mayoral cabinets, he could not continue his activity as a teacher. "I give back my teaching license, because a teacher who scored 20 out of possible 20 can not teach at a school in such country."
Varazdatyan recalled that once he has given a bad grade to the grandchildren of the President Serzh Sargsyan and Prime Minister Hovik Abrahamyan for bad behavior and unpreparedness to the lessons. He was subsequently called to a certain school and faced a serious conflict over his dare to put bad marks to the family members of the country's elite persons.
Deputy Director of the National Institute of Education Anahit Bakhshyan has earlier noted that education must be politicized in Armenia as political elite put a great pressure on it. She added that education should be depoliticized in the country to get rid of the problems facing teachers and students.

Armenia's former Education Minister Ashot Bleyan in his turn said teachers were the most unprotected social group in the post-Soviet state. He added that teachers are afraid of losing their jobs during each new school year. "Teachers in Armenia are not protected against losing their jobs. The law regulates neither teacher's salary, nor the working hours and extra payments," Bleyan added.
Demographic problems, low birthrate and emigration in the country have also taken their tolls on education. When political pressure is added to these challenges, education could be viewed as an "endangered" field in Armenia. UNICEF data reported that nearly 80 percent of pre-school age children fail to attend pre-schools due to social, financial and family problems. It subsequently results in the closure of pre-schools leaving many teachers jobless.
Employees of the Yerevan State Conservatory shocked when they received the salaries for this October. Local media reported that salaries of the conservatory's several members was calculated at $12 to mock their academic activity. One of the professors said the administration announced to calculate the salaries based on academic hours, but the amount of latest wages proved they were lying.