Today.Az

»

Analytics » Armenian capital put up for sale


08 March 2014 [12:25]

- Today.Az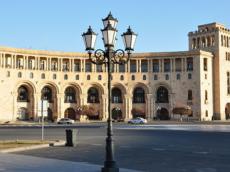 By AzerNews

The Armenian government is selling historical buildings of capital, Yerevan, to wealthy businessmen, who immediately destroy them and build new ones.

The recent developments in Yerevan allow saying that the authorities have put up the city for sale.

Local architectures have warned that the authorities are destroying Yerevan for business interests.

"The government deprives the city of its historical appearance, and there is no historical monument or building in Yerevan which has not been spoiled or destroyed," they emphasize.

Such actions provoke protests among people residing in Yerevan's centre. Residents of buildings sold in the city centre demand the restoration of their violated rights.

Most of them are homeless for 12 years, because compensation pay were not enough to buy a new house. They had been forced to leave their homes, whilst no one has taken responsibility for these illegal actions.

Former inhabitants held a protest action in front of the government's building demanding compensations for their demolished houses on March 6. Protesters chanted "Thief", "Robbers", "Tigran, come out and answer", but no official answered as previous times.

The most ridiculous point is that the Armenian government has not only put up for sale historical buildings in Yerevan, but also its own buildings. The government sold its second building, where the Ministry of Foreign Affairs is placed, to an Argentinean businessman of Armenian origin. But the businessman was disappointed, as the government had not fulfilled its obligations.

The authorities also decided to destroy an old terminal of Yerevan's airport, which is in the list of cultural monuments. The Union of Armenian Architects appealed to president to prohibit the demolition of the old airport terminal, but still no answer has been given to them.

Irreversible processes targeting more wealth and more capital leaves behind the national interests in Armenia, which suffers from poor economy and tough living conditions.

The lengthy war the Armenian authorities started against their neighboring country - Azerbaijan - isolated the former Soviet republic from all regional projects, leaving the government with no other choice but to put up for sale its historical buildings to survive.