Armenia-China foreign ministries' political consultations were held in the Armenian Foreign Ministry.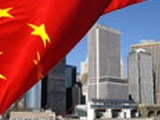 The Armenian delegation was headed by Areg Hovhannisian, the Head of African, East Asian and Pacific Ocean Countries Divisions at Armenian Foreign Ministry, whereas Chinese one – by Zhang Xiao, Chinese FMA European-Central Asian Affairs Department Deputy Director-General.
The sides discussed bilateral relations, issues on cooperation in the frames of international organizations, conducting Armenian-Chinese intergovernmental commissions' regular session, organization of Shanghai Expo 2010, as well as cultural and educational matters.
Armenian Deputy Foreign Minister Karine Ghazinyan also received Chinese delegation.
/News.am/