Armenian soldier Gor Agabekyan, who served at a military unit in the occupied Nagorno-Karabakh region of Azerbaijan, has shot dead his two fellow soldiers.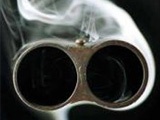 Later he committed a suicide.
Before the incident, Agabekyan sent a letter to his family complaining about bad condition in the military unit and asked to transfer him to other unit.
Spokesman for so-called "defense minister of Nagorno-Karabakh Republic" Senor Asratyan declined to provide details about the incident as the death of the three soldiers are under investigation.
/
APA
/