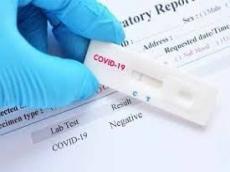 People in Spain will no longer have to wear face masks on public transport from Feb. 8 after the decision was taken to end their obligatory use as a protection against COVID-19 during Tuesday's cabinet meeting.
The decision is the latest towards the normalization of life in Spain after the COVID-19 pandemic, with the obligatory use of facemasks in most indoor settings ending on April 20, 2022, and outdoors a year ago, on Feb. 10.
"We are following the roadmap that we planned to return to normality," Spain's Minister for Health, Carolina Darias, told journalists.
Face masks will, however, still have to be worn in hospitals, health centers and pharmacies "due to the vulnerability of the people who are there," the minister said.
The country's epidemiological situation is steadily improving, Darias said.
On Feb. 3, the 14-day notification rate of new COVID-19 cases in the country's population aged 60 years and over stood at 50.76 cases per 100,000 inhabitants, almost 50 points lower than the 97.60 cases per 100,000 inhabitants registered on Jan. 20.
Currently, 2,056 people are hospitalized with the virus, 150 of them in intensive care. Since the start of the pandemic, 118,712 people have lost their lives to COVID-19 in Spain.