Azerbaijan's Foreign Minister Elmar Mammadyarov met with Syrian President Bashar Assad during his visit to this country, Azerbaijan Honorary Consul to Lebanon Nazih Gassab told.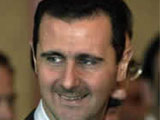 According to him, Elmar Mammadyarov discussed issues of mutual interest and Syria's position on the Nagorno Karabakh conflict with Bashar Assad.
Syrian President said his country recognizes Azerbaijan's territorial integrity and supports peaceful solution to the Karabakh conflict, APA reports.
Mammadyarov and Assad stressed the importance of regional cooperation and joint projects. The meeting also covered issues of establishing Azerbaijani embassy in Syria.
The sides also touched on the situation in Iraq and Palestine. Two sides agreed to continue talks on the issues of mutual interest in the future.
Syrian Foreign Minister Valid al-Muallim's visit to Azerbaijan has been agreed by the sides on this purpose.