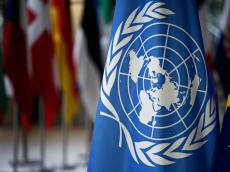 By Azernews 
"Civil and public infrastructure, including hospitals, schools, residential buildings, and cultural and religious sites, were not damaged in Khankendi," said in a statement, Azernews reports.
The mission has not received complaints about incidents of violence against civilians since the last ceasefire.
The report also notes that up to 1,000 Armenians currently live in the Garabagh region.
The mission was headed by the UN Resident Coordinator in Azerbaijan Vladanka Andreeva. The UN Office in Azerbaijan plans to continue regular visits to the region.
Armenian Ambassador-at-Large Edmond Marukyan said that the UN mission that visited Garabagh and denied the existence of any ethnic cleansing in the region appeared to discredit the UN as an institution. According to Marukyan, "the so-called UN mission has done everything to legitimize ethnic cleansing" and he "looks forward to the UN investigation into the activities of these representatives".
Apparently, Edmond Marukyan, on special assignment, has not realized that the UN is not a branch of the Armenian National Committee of America, and if there is no ethnic cleansing, the UN mission cannot confirm it.
Moreover, a new disappointment is in store for Armenian diplomacy: as it has already been reported, the US State Department was forced to admit that there is no evidence of "ethnic cleansing" in Garabagh.