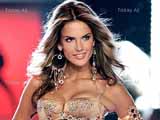 Click photos to enlarge:
Gisele Bundchen is the best paid model in the world - raking in $25 million last year. Gigs with Dolce & Gabbana and True Religion, as well as her own line of sandals, keep this new mommy's bank account chock full of cash.
Heidi Klum ranks #2 on the list with a cool $16 million. Most of her money comes from endorsement deals with Diet Coke, McDonald's and Volkswagen, among other companies, as well as a lucrative TV career that includes Project Runway and Germany's Next Top Model.
Model and designer Kate Moss is still on top of the fashion world despite being 36. Her bank account sees a $9 million a year cash infusion. Topshop, her clothing line, is doing well, and her deals with Versace, David Yurman and others are padding her pocketbooks.
She's the darling of Victoria's Secret - and well-paid because of it. Brazilian bombshell Adriana Lima pulled in $7.5 million.
Hottie Doutzen Kroes raked in $6 million last year. She's got endorsement deals with Calvin Klein and L'Oreal.
The sixth best-paid model in the world, Alessandra Ambrosio makes $5.5 million a year. This past year, she's worked for Louis Vuitton, Prada and more.
Natalia Vodianova came from a very poor family in Russia and climbed her way to the top of the modeling industry. The beauty, who has a lucrative contract with lingerie firm Etam, makes $5.5 million every year.
Daria Werbowy ranks #8 on the list with $4.5 million in earnings last year. She has deals with Lancome and H&M.
Victoria's Secret Angel Miranda Kerr made $4 million last year, part of which is from deals with Victoria's Secret and David Jones Limited. She ranks #9.
Estee Lauder glamour girl Carolyn Murphy makes $3.5 million per year. She is the only American on this list.
/NY Daily News/