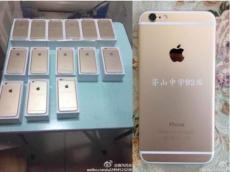 Chinese businessman Qian Fenglei is the kind of friend everyone would want. This real-life Richie Rich has recently gifted specially embossed gold iPhone 6 smartphones to all his former high school classmates, at a reunion dinner. The inscription on the phones reads: 'Class of 1992, Maoshan Middle School'.
Qian is the chairman of Universal International Holdings (Hong Kong) Limited, and is quite well known for his generosity. He was previously in the news for donating two million yuan towards relief work after the 2008 Sichuan earthquake. And he also gave all his former classmates an iPhone 5 during a previous reunion. Guess they know what they'll be getting when Apple launches their new generation of phones.
But the news of his giving away the iPhone 6 has made him quite the internet celebrity, especially because the device isn't even available in China until October 17. He's gesture is trending on China's social networking website Weibo right now, with people making all sorts of comments about his gesture. Some are praising him, while others seem downright jealous.
Tears streaming down my face! Let's be friends tuhao," wrote one person. Tuhao is a term that refers to the nouveau rich in the Chinese language.
"When will I be able to offer all my classmates a free Lamborghini?" another user lamented.
/Odditycentral.Com/