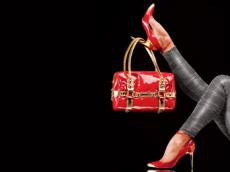 Most Americans think people are too focused on fashion, yet a majority says how they dress is an important part of who they are, according to a survey released on Monday.
With that eye to fashion, most people, 86 percent, say it is possible to be stylish on a limited budget, according to the survey conducted by the Fashion Program at Marist College and the Marist College Institute for Public Opinion in Poughkeepsie, New York.
Just 14 percent disagreed, saying good fashion is reserved for people with a lot of money, it said.  
The poll found 68 percent of respondents think too much attention is paid to fashion, and 55 percent said how they dress is an important part of who they are.
That is not necessarily a contradiction, said Sue Kenney, Marist Poll senior research associate.
"Ideally with so much going on in America, it's easy to say we spend too much attention on this small issue, but when you dig deeper, it's not that small," she said.
"People get up in the morning and figure out what they're wearing. That's not that quick and easy a decision," she said.
Another 45 percent said choosing their outfit is not something they think about, the survey found.
The margin of error was plus or minus 2.8 percentage points.
The survey of 1,212 adults nationwide was part of a senior project and conducted April 7 through April 10, 2014.

/Reuters/