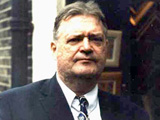 An event dedicated to Azerbaijan's medieval poet Nasimi was held in Pushkin House in London recently. It was co-organized by the Azerbaijani Embassy and Azerbaijan Friendship and Culture Society. The event brought together many British art lovers including famous English poet David Parry.
"I am from Hampshire in southern England. As most London residents, I am not a Londoner. I am engaged in poetry and teaching poetry at the same time. I have released two books. The first is "Caliban's redemption" which represents a parody of me. The second is "Grammar of Witchcraft." It has been welcomed by readers. I also teach literature."



Now let's talk about the event. Why Nasimi? Why did you decide that the medieval Azerbaijani poet will be interesting to modern English?
Eighteen months ago a student of mine Sanan Aliyev introduced me to the Azerbaijani literature. And I found myself in a unique position. Many professors would want to be in my position. I have read the works of Azerbaijani poets and I wander how they can be unknown in Europe. I was fascinated. Then I began to read about Mirza Fatali Akhundov. Incidentally, my next book will be about him. Finally, I found about a fantastic Nasimi, and we decided to hold an event dedicated to this poet at the Pushkin House.
Do you think Nasimi's works will be interesting to English people?
I saw a spirit of anarchist and adventurer in Nasimi. He is a Sufi philosopher. His story is entirely consistent with my Shakespeare synthesis. In fact, he sacrificed himself for the sake of poetic tradition. I was struck by his free-thinking, not so typical for the East. Reading his works, it seems as if I am talking to a fellow countryman. His lyrics is peerless. Images created by him conquer with their inflexibility. I am proud that I had a chance to introduce Nasimi to British readers.
Eastern poets Rumi and Khayyam are more widely known in the United Kingdom as elsewhere in Western Europe. Nasimi created works in three languages - Azerbaijani, Arabic and Persian. Sometimes those in Syria consider Nasimi their own poet due to his Arabic poems. There were dozens of poets like Nasimi in Azerbaijan. Why do Europeans have so limited knowledge about Eastern poetry?
This is quite an interesting question. I think British differ from their American relatives in this regard. For example, for me Baghdad is associated primarily with fine carpets, spices, flavors and minarets. Unlike Americans, British are more romantic and dreamy. So, Jalaladdin Rumi suits their nature with his romanticism and lyricism in this respect. One can only feel sorry about our limited knowledge of the oriental poetry. This is especially true of the Azerbaijani poets. No matter what is said, in my opinion, Nasimi is Azerbaijani with his poetry. Introducing the West to such poets as Nasimi is usually like a supernova explosion. Limited knowledge of the West of Eastern poetry is also related to its cultural isolation, and this is regrettable.
Now let's talks about the United Kingdom, which is considered a land of poets unlike most other European countries. You have no Hugo or Balzac, but you have Shakespeare, Byron and Burns. There is a perception in Azerbaijan that that Azerbaijanis are people of poetry. This perception can be attributed to the British, too.
We are a country of Shakespeare! I always tell my students: do not forget your roots, which are in Shakespeare. He is not only the elite, but also the root of English poetry. Shakespeare speaks to reader on all levels. An academician can make philosophical conclusions from his works while the poor enjoy the beauty contained in them. So it should be: poetry is life and we live this life in different ways.
And do you do poetic translations?
I did some when I was a student. My Russian language needs to be improved. In poetry, I'm worried about something else: I think we are losing a tradition of being a nation of poets, which you mentioned. This is the subject of my study, in which I am looking for an answer to the question of where and how we lost this tradition.
Shakespeare, Byron and some other British poets are well translated into Azerbaijani. Works of which other poets do you advise to translate into Azerbaijani language?
First and foremost, works by Blake. On the other hand, how can one translate them? Blake has a boundless imagination. I also I advise Geoffrey Chaucer who was influenced by Islam.
They say that any translation is a sin. It turns out that poetic translation is a double sin?
I am a sinner myself. What can I do about it? Perhaps, the angels will forgive me. Poet is a sinner. I'm not quite ordinary being. I am even unique, because I love both poetry and philology. I am one of those who mocks postmodernism. But I think that the sin of poetic translation can contain an unprecedented beauty. What is important is that we want to translate text, shape, or feeling. If you decide to translate English text line by line, you will get a completely different book. If you're going to translate the spirit, the voice of the poet despite broken grammatical rules, you will get another book this time, too. But in this case the poet is born anew, only in another language.
You recently traveled to Azerbaijan…
I fell in love with Azerbaijan and Azerbaijanis. Baku is a wonderful face, an incredible harmony of old and new. It is clean, bright, shining city. Baku is a beauty, reflected in the waters of the Caspian Sea. I would like to go there again.
/Vesti.az/