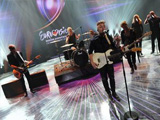 On January 21, Denmark will name its participant for the international song contest "Eurovision-2012" to be held in Baku.
The Danish National Selection will take place on the 21st of January 2012 at the Gigantium Arena (part of the Congress and Culture Centre) in Aalborg. Denmark usually is one of the first countries to decide its entry and next year is no exception!
DR also announced that the competition will follow the same successful format as in the previous three years, which has yielded great results for Denmark and also contributed to much higher viewing figures. The format will be as such:
•    There will be no semi final, just one big final show.
•    Three to four of the participants will be invited by DR to participate as wild cards.
•    The remaining entries will be chosen from the songs sent directly in to DR by a "secret jury".
The window for accepting entries opens today and will run until the 26th of September. We will bring further announcements when the successful entries and acts are announced.
As always Dansk Melodi Grand Prix will be broadcast live, but for those of you who want to experience the event in Aalborg, tickets will go on sale on the 30th of September via billetnet.dk.
The 2012 Eurovision Song Contest is set to take place on the 22nd, 24th and 26th of May in Baku, Azerbaijan.
/Eurovision.tv/