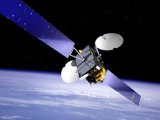 Azerbaijan's first national telecommunications satellite will launch into orbit from the Kourou Cosmodrome, Communications and IT Minister Ali Abbasov said today. The Kourou Cosmodrome (Guiana Space Center) is located in South America in French Guiana.
Azerspace will weigh over 3 tons and will be launched by Arianspace's Ariane-5ECA rocket carrier. Its start-up costs total $93 million.
The minister said the satellite's small weight will save the country several million dollars in insurance services. The satellite's insurer will be determined soon, Abbasov said.
"The satellite's production will end in September 2012," he said. "It will be launched in Q4 2012. Azerbaijan will start providing services to the global space market from January 2013."
The ministry plans to negotiate the signing of contracts to implement Azerspace's resources.
/Trend/
Related articles:
Azerbaijan's IT Ministry, Arianespace sign contract to launch national Azerspace satellite into orbit
Azerbaijan to launch its first satellite in June 2012
Azerbaijan signs contract on launch of national sattelite
Azerbaijan to sign general contract on AzerSpace national sattelite