According to the forecasts of the State Oil Company of Azerbaijan (SOCAR), Azerbaijan will transport about 5 million tons of Kazakh oil in 2009, KazTAG reported quoting Adviser to the President of SOCAR Murad Heydarov as saying on Oct.8.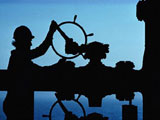 "In 2008, Azerbaijan has transported about 2.7 million tons of Kazakh crude oil via the Baku-Tbilisi-Ceyhan (BTC) and over 300,000 tons of this oil was from the Tengiz field," Heydarov said at the 17th Kazakhstan International Oil and Gas Conference.
"We plan to increase this index to 5 million tons of oil in 2010, although the realization of the Trans-Caspian project is only in its initial stage," Heydarov added.
The Trans-Caspian system is expected to be put into operation in 2013 and at the initial stage the oil transportation will be about 23 million tons of oil per year, the adviser said.
Haydarov said the BTC transported about 1.34 million tons of Kazakh oil in January-September and by rail - 2.3 million tons.
/
Trend News
/