Fitch Ratings has upgraded Azerbaijan's foreign and local currency issuer default ratings from 'BB' to 'BB+' with a stable outlook, citing high oil production and low state debt in the former Soviet state.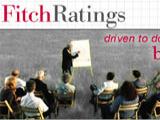 However, the agency noted weak anti-corruption measures and the slow pace of reforms in the South Caucasus nation.
The Country Ceiling has been revised to 'BB+' from 'BB', while the short-term foreign currency rating is affirmed at 'B.'
"Fitch's upgrade of Azerbaijan's sovereign ratings is driven by strong and sustainable economic growth, low government and external debt ratios and a growing current account surplus, underpinned by rapidly rising oil and gas production," said Fitch sovereign debt analyst David Heslam.
"The completion of key energy export projects in 2005 and 2006 has driven a significant rise in hydrocarbons production, accelerating Azerbaijan's real GDP growth, which reached an estimated 35% in 2006," Fitch said.
"At just 11% of GDP, Azerbaijan's government debt-to-GDP ratio is the lowest of all 'BB' range sovereigns... Azerbaijan's external debt stock is the second smallest in the 'BB' range at just 20% of GDP," the statement said.
However, Fitch noted "rising inflationary pressure" due to increased public spending, up 80% in 2006.
"Fitch is concerned that inflationary trends will continue to put upward pressure on the real exchange rate and threaten the competitiveness of the non-oil economy, as well as the improvement in living standards," the agency said.
"Azerbaijan's non-oil sector remains small and the banking sector is one of the weakest among the sovereigns rated by Fitch. Progress with structural reforms and anti-corruption measures has been slow, contributing to a difficult business environment. Fitch is concerned that the political will to press ahead with reforms is likely to fall as oil revenues rise," the statement said.
"Further rating upgrades will, however, depend on the adoption of a timely policy response to inflationary pressures and addressing shortcomings related to structural reforms and the diversification of the economy," Fitch said. RIA Novosti