The Tokyo Stock Exchange and the New York Stock Exchange announced that they have signed a tie-up agreement.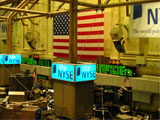 The accord between the world's two largest stock markets was announced by TSE President Taizo Nishimuro and NYSE Group Inc. Chief Executive Officer John Thain at a press conference in New York.
The TSE and NYSE will also start talks on a capital tie-up.
This is the first comprehensive alliance the TSE has formed with another bourse.
Through the tieup with the NYSE, the world's biggest equity market, the TSE, the second-largest, hopes to survive intensifying competition among bourses. Major bourses around the world are racing to find global partners and attract more investors.
The agreement will allow both exchanges to cooperate on everything from joint-stock listings, technology and the development of new products. Further, it sets in motion the chance of a true combination once Japan's biggest stock exchange goes public in 2009.
NYSE Group, Inc. operates two securities exchanges: the New York Stock Exchange LLC and NYSE Arca, Inc. (formerly known as the Pacific Exchange). NYSE Group is a leading provider of securities listing, trading and market data products and services. In 2006, on an average trading day, 2.3 billion shares, valued at $86.8 billion, were traded on the exchanges of the NYSE Group.
Tokyo Stock Exchange, Inc. is the premier exchange for Japanese cash equities and derivative products from the perspective of investors both in Japan and abroad. In 2006, stock trading volume on TSE reached 502 billion shares. This has positioned TSE as the central market of Japan. Also in 2006, TSE recorded an average daily trading volume of 2,026.0 million shares, and daily average trading value of JPY 2,716.7 billion. At the end of December 2006, the number of listed companies was 2.416, with a market capitalization reaching JPY 549.7 trillion. Among the 19 Japanese companies currently listed on the NYSE are Canon, Honda, Sony and Toyota. APA