Government of Azerbaijan is considering the project on establishment of a special oil shipping company.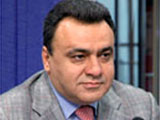 The Economic Development Minister, Heydar Babayev, said the project is already ready, APA reports.
The company is to ship Azeri oil to the Black Sea and Mediterranean Sea, as well as Western Europe from the ports of Batumi, Supsa and Ceyhan.