Government has passed the 2007-2010 Development Program for Baku Metro.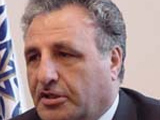 Baku Metro Chief, Taghi Ahmadov, told the APA that the program plans construction of new metro stations in the settlement of Badamdar, the city of Sumgait and Heydar Aliyev Airport.
He said that metro system is not planned to be established in other cities.
"It is advantageous to set up metro in cities having over 1 million-population," he said.
Established in 1967, Baku Metro has 20 stations and one depot, 208 metro transit vehicles in operation, 32 in reserve. The metro line is 77km in length.