Culture and Tourism Ministry has begun licensing process from Monday.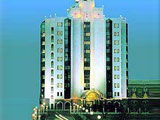 The ministry has appealed to 65 hotels and inns on presentation of the documents.
It should be noted that, the terms of the licensing were approved by the Cabinet of Ministers on December 25 last year.
According to those terms, the hotel should present needed documents to the ministry and the ministry will consider their appeals in 15 days.
The hotels will be licensed for five years.
AZN 1650 state due should be paid to get license.
The hotels without licenses will be punished according to the legislation.
It should be noted that, at the present there are 294 hotels and inns in Azerbaijan. APA