Security officers in Armenia have detained a man in connection with an alleged coup plot by opposition activists, officials said Friday.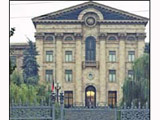 Vaan Aronian was arrested at his home in the village of Lusatar in western Armenia, where security officers found weapons and ammunition including guns, grenade launchers and a shoulder-fired missile launcher, the National Security Service said in a statement.
It said the detention was linked to a probe that led to the arrest earlier this month of Zhirair Sefilian, a Lebanese citizen who heads the Association of Armenian Volunteers, and another activist of the group, Vadan Malkhasian.
The two are accused of plotting a coup, making public demands for the government's ouster, and possessing illegal weapons — charges they have denied. A court in mid-December ordered them to be held in jail for two months as the investigation continues.
Members of the Association of Armenian Volunteers have said the arrests were part of an attempt by the authorities to stifle dissent in the run-up to parliamentary elections next year.
Sefilian is a veteran of the 1988-1994 war in the disputed enclave of Nagorno Karabakh, which ended when Armenia-backed separatists drove out Azerbaijan's government forces. The Associated Press
/The International Herald Tribune/