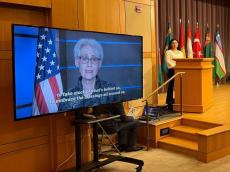 By Azernews
The U.S. State Department has hosted an event celebrating Novruz spring feast. The celebration was organized by the embassies of Turkiye, Kazakhstan, the Kyrgyz Republic, Turkmenistan, Uzbekistan and Tajikistan in the U.S. as well as non-governmental organization "Global Partners of the American Foreign Service" at the the initiative of the Azerbaijani Embassy in Washington, D.C, Azernews reports.
The large-scale event brought together US officials, diplomats of embassies accredited in the US, as well as community representatives, was moderated by Shalala Valiyeva, a scholar in law studies and PhD student at the American University, Washington, DC.
In her remarks, US Deputy Secretary of State Wendy Sherman congratulated all the peoples celebrating Novruz worldwide on behalf of US President Joe Biden and the American people, saying that Novruz, which is a wonderful opportunity to celebrate spring, brings new breath to people for new opportunities.
US Deputy Assistant Secretary of Defense Rebecca Zimmerman also conveyed her congratulations on the spring feast. She hailed the contributions of regional countries to strengthening regional cooperation and promoting peace and stability.
Representative of the US Agency for International Development (USAID) Anjali Kaur expressed her gratitude to the embassies for the organization of the event. She congratulated all those living in the regions where Novruz is widely celebrated.
In her speech, Anjali Kaur stressed that in the difficult times we are currently experiencing, Novruz brings warmth to hearts, promoting common values such as unity, independence and freedom.
Next, Turan Ethnic and Folklore Ensemble (Kazakhstan) thrilled the audience with the traditional music of the organizing countries.
The participants familiarized themselves with the Azerbaijani culture traditions and tasted delicious dishes of the national cuisine.
The event also featured the national dances of each country performed by the US Silk Road Dance Group.
Noting that, Novruz is widely celebrated as the symbol of winter's leaving and spring's coming.
The holiday starts either 20th March or 21st March, on the spring equinox, when the days and nights are equal lengths.
Azerbaijani people celebrate four pre-holiday Tuesdays before the spring festival. Each Tuesday is dedicated to the awakening of one of nature's elements: Su Chershenbesi (Water Tuesday), Od Chershenbesi (Fire Tuesday) Yel Chershenbesi (Wind Tuesday) and Torpaq Chershenbesi (Earth or Last Tuesday).
On September 30, 2009, Novruz was included in UNESCO's List of Intangible Cultural Heritage. On February 23, 2010, the UN declared March 21 the International Day of Novruz.