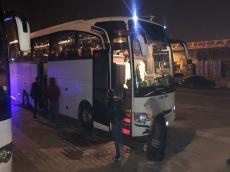 Since yesterday, a total of 201 Azerbaijani citizens, including 3-4 Turkish citizens, have been evacuated from quake-hit regions of Turkiye, Azernews reports per the Foreign Ministry.
"The evacuees are being transported by buses to the border with Georgia. These are citizens, mainly from Gaziantep, Malatya, Adana, Diyarbakir, Kahramanmaras, and Elazig. We keep working. The number of evacuation flights that will be carried out during this day depends on the lists," the statement said.
A 7.7-magnitude earthquake was recorded in central Turkiye on the morning of February 6, 2023, according to the European-Mediterranean Seismological Center. The quake's epicenter was located 26 km away from the city of Gaziantep with a population of about 1.06 million. The source of the earthquake was 7 km below the surface. Further, three more quakes with a magnitude of 6.4-6.6 rocked Gaziantep province in south-eastern Turkiye. As a result of the earthquake that hit Turkiye, strong tremors were also felt in Syria, Lebanon, Egypt, and Cyprus.
At the moment of writing this article, the overall death toll in Turkiye has risen to 7,108 with 38,224 injured.
Azerbaijan was the first country to provide assistance to Turkiye immediately after the earthquake.
The Ministry of Emergency Situations is continuing to send humanitarian aid and rescuers to Turkiye.
Azerbaijani rescuers are currently working in the Turkish quake-hit regions.