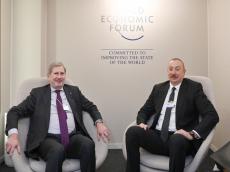 Azerbaijani President Ilham Aliyev has met with EU Commissioner for Budget and Administration Johannes Hahn in Davos.
During the meeting, the sides noted the role of Azerbaijan in increasing the importance of the East-West transport corridor and, on this basis, the Middle Corridor.
President Ilham Aliyev highlighted the works carried out so far to establish and develop transport and logistics infrastructure in Azerbaijan.
It was emphasized that Azerbaijan continues its efforts aimed at increasing the transit capacity for the transportation of goods through its territory.
During the conversation, the sides discussed issues of cooperation in the field of energy, as well as hailed Azerbaijan's contribution to ensuring Europe's energy security. It was noted that works are underway in Azerbaijan to transport additional volumes to the European energy market.
During the meeting, the sides exchanged views on the prospects of cooperation between Azerbaijan and the European Union in various areas.