Some organizations scheduled to hold exit polls in front of the polling stations, head of the socio-political department of the President's executive office, Ali Hassanov stated on 12 July during his talk with journalists, Trend reports.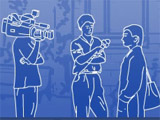 According to him, at the moment the Azerbaijan's government receives appeals from various institutions in this regard. «It is known, the American company will hold the exit-poll on the Election Day at the initiative of the American Embassy. Moreover, Russia also displayed willingness to carry out the poll on the Election Day.
We, the government, will also, as usual, conduct a poll in front of the polling stations. We are not concerned over the possible appeal of any other companies or states prior to the elections' start.
On the contrary, the Decree, signed earlier by the head of the state on improvement of the electoral practice, creating conditions for all companies, desiring to hold the exit-poll has been also envisioned ", Hassanov underlined.