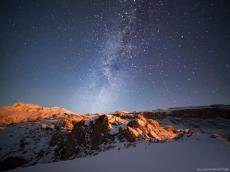 By Azernews
By Laman Ismayilova
Winter sun creates beautiful light and shadows on the snow covered landscapes. 
Take a walk through winter wonderland with us as and explore just how a little snow can turn an Azerbaijan's regions into somewhere magical.
Azerbaijan is an incredibly beautiful area of unique natural contrasts, while 9 of 11 main climatic types of the Earth, from subtropics to alpine meadows, exists here.
There is the splendid flora of humid sub-tropics and everlasting snow and glaciers of Shahdagh and Murovdagh, Gabala forests, full of spring flavors, and hot steppes of Mil, Mugan, and Shirvan, and mist and rains over tea and citrus plantations in the foothills of the Talish Mountain Range and warm "Moryana" (a shore-to-sea breeze) and the Absheron Peninsula`s gusty "Khazri" (the Caspian north wind), all neighboring each other.
We are happy to show you picturesque scenery, shot this winter in Nakhchivan, Guba, Khizi, Shamakhi and Gabala regions by photographer Leki.
PHOTO by Azertac