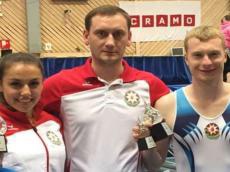 By Amina Nazarli
The 32nd International Frivolten Cup in trampoline gymnastics was held in the Swedish city of Herrljunga on May 15-16.

Azerbaijani athletes were remembered by their successful performances, winning three medals at the prestigious tournament.
Dmitriy Fedorovskiy won bronze performing at the double mini trampoline. Moreover, Fedorovskiy proved himself performing individual and ranking second.
Following her great performance, Sabina Zaitseva brought Azerbaijani team silver medal.
Also, the Geneva International Acro Cup was also held on May 14-16 in Swiss city of Geneva. The event hosted Azerbaijani group of Lala Huseynova, Aynur Huseynova and Narmin Ramazanova. The gymnasts reached the final, where they ranked fifth.