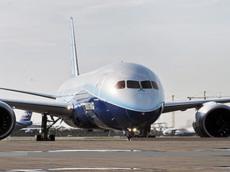 By Sara Rajabova
Boeing's official has said the U.S. aviation giant set its sight on the Iranian aviation market and expects a "very strong" demand in the country.
"We've done a pretty good assessment on our side and we think the demand, should things open up, will be very strong," Martin Bentrott, Boeing's vice president of sales in Middle East, Russia, and Central Asia, told a United Arab Emirates newspaper on May 4.
He added that Iran's assessment of its own aviation requirements was accurate.
Ali Reza Jahangirian, head of the country's aviation organization said earlier that Iran needs to buy up to 500 passenger planes in the next 10 years to renovate its aging fleet.
Bentrott, however, said international sanctions imposed on Iran over its nuclear energy program are still in place, expressing hope for the lifting of sanctions by the end of June.
"There are still sanctions in place in regards to our ability, the reality is our inability, to market and sell our aircraft to Iran. We are hopeful through the negotiation process that perhaps after the end of June maybe things will change, if there's an agreement," said Bentrott, who manages the sales of all Boeing commercial airplanes and services.
The Iranian aviation industry is under international sanctions. Western imposed sanctions have barred Iran from buying western aircraft since the 1970s.
Moreover, the U.S. Treasury has barred Iranian airlines, including Iran Air, from landing or operating in the U.S. Furthermore, extraterritorial U.S. sanctions prevent European airports from providing Iranian carriers with fuel or accepting their money.
However, a preliminary agreement between Iran and the P5+1 group of countries in November 2013 led to an easing of sanctions in the aviation sector.
"We still have a license approved by the U.S. government to provide safety of flying and documentation to help airlines in Iran," Bentrott said.
Major U.S. aerospace manufacturers, Boeing and General Electric, applied for export licenses in order to sell airliner parts to Iran following November 2013 deal. The U.S. Treasury department granted Boeing a license to sells spare parts for commercial aircraft to Iran in April 2014.As negotiations between Iran and P5+1 group of world powers staged progress, the license has been extended and is currently valid until the end of the month.
American engine manufacture General Electric has also received permission from the U.S. government to sell spare parts to Iran.
However, he noted the Iranian market has so far generated a "relatively small" amount of revenue. "We have not done a significant amount of spare part business," Bentrott added.
The United States and European nations have imposed severe economic sanctions on Iran in recent years aiming to pressure Tehran to dramatically reduce its nuclear program for a lengthy period of time to keep it from developing nuclear weapons.
However, Iran has denied the charges and insists that its nuclear program is for peaceful purposes only.