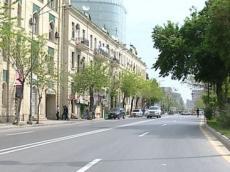 The Azerbaijani Transport Ministry's Azeryolservis OJSC has partly completed the road repairs in Baku, Company spokesman  Punhan Mursaliyev reported.
He said now the repair work is underway on the Y.V. Chamanzamanli Str. (from the intersection with the Samed Vurgun street to the Azadlig Avenue), Shamsi Ragimov Str., Richard Zorge Str., Zarifa Aliyeva Str., Khaghani Str., Suleyman Rahimov Str., Nizami Str., May 28 Str., Y. Safaraliyev Str., Zeynal Abdiyev Str., Teymur Aliyev Str., Ahmed Rajabli Str. (from the intersection of Zia Bunyadov Prospect  to the Y.V. Chamanzamanli Str) and other streets. 
Also, a new road with length of 550 meters and a width of 9 meters is laid from the Nizami Street to Yusif Safarov Street. The reconstruction works still continues on some streets of Baku. According to the road reconstruction plan, the works will soon be completed.