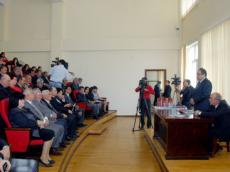 Presentation of a book titled "Stepan Shahumyan – doomed to oblivion. Portrait of the "legendary communard" without retouching" by Prof. Eldar Ismailov took place Wednesday at the Baku State University.
In the modern period, when 20 percent of Azerbaijan's territory is under the Armenian occupation and the Armenian nationalists are pursuing a policy of aggression against the Azerbaijani people, this book is an effective tool to bring the truth about historical events of the early 20th century in Azerbaijan to the world community, said rector of the Baku State University Abel Maharramov at the presentation.
During the Soviet era, Stepan Shahumyan was presented to the people of Azerbaijan as a fighter for the freedom of the proletariat, but in fact he conducted anti-Azerbaijani activities, the BSU rector said.
"The book presents numerous facts proving the fact Shahumyan was an enemy of Azerbaijani people, the author unveils the true nature of Shahumyan's activity. Facts prove that his real goal was a destruction of the Azerbaijani people," said Maharramov.
The author of the book describes the life of Stepan Shahumyan in chronological order. Ismailov cites passages from articles written by Shahumyan, in which he expresses his political views, attitudes toward the Armenian-Azeri clashes. The author investigated a large number of archival materials being preserved in Baku and Moscow, documentary collections. Based on a deep analysis of archival material and historical facts Ismailov revealed that the March 1918 attack against the Azerbaijani people was organized by Stepan Shahumyan.
The author emphasizes that "Shahumyan's policy was essentially fascist." "Regardless of what had motivated him and which goals he had pursued, mass murder on a national basis is a real fascism in action, " he says.
Stepan Gevorgi Shahumyan was a Bolshevist Russian communist politician and revolutionary active throughout the Caucasus. Shahumyan was an ethnic Armenian and his role as a leader of the Russian revolution in the Caucasus earned him the nickname of the "Caucasian Lenin", a reference to the leader of the Russian Revolution, Vladimir Lenin.
Shahumyan is best known as the head of the Baku Commune, a short lived committee appointed by Lenin in March 1918 with the enormous task of leading the revolution in the Caucasus and West Asia. His tenure as leader of the Baku Commune was marred with numerous problems including ethnic violence between Baku's Armenian and Azerbaijani populations.
As the Baku Commune was voted out of power in July 1918, Shahumyan and his followers, known as the twenty six Baku Commissars abandoned Baku and fled across the Caspian Sea. However, he, along with the rest of the Commissars, was captured and executed by anti-Bolshevik forces on September 20, 1918.
Throughout the Soviet Union's existence, the town of Khankendi in the Nagorno-Karabakh region of the Azerbaijan SSR was renamed Stepanakert, in honour of Shahumyan. In 1992, Azerbaijan restored the pre-Soviet name of the town, Khankendi, while Nagorno-Karabakh self-declared government still refers to it as Stepanakert.
/
AzerTAc
/