Today.Az

»

Society » Aydin Ibrahimov's punishment commuted


21 April 2007 [15:25]

- Today.Az
Preliminary court proceeding on case of Aydin Ibrahimov, who is accused of stealing art works from State Art Museum, was held at Azerbaijani Court of Grave Crimes.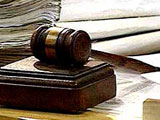 Ogtay Gerekmezli, lawyer for Ibrahimov petitioned for commuting his arrest to house arrest taking into consideration his disease and contributions for the country. The court granted the petition. Ibrahimov was released.The next legal proceeding was fixed to April 25.
Ibrahimov faced charges on robbery and smuggling.
274 art works were stolen from State Art Museum in 1993. As a result of joint operations with national central bureaus of Interpol in Washington, Wiesbaden and other, the stolen art works were found in the US.
All persons involved in the crime were held accountable and Interpol issued international notice on Aydin Ibrahimov.
He left the US for Azerbaijan in September this year and gave in. APA