Today.Az

»

Society » 274 art works stolen from State Art Museum found in USA


23 December 2006 [01:21]

- Today.Az
274 art works stolen from State Art Museum in July, 1993, have been found in the USA.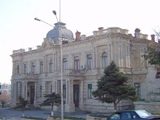 Chief of Interpol Central Bureau in Azerbaijan Mammed Mikaylov told APA that 6 orientations on the robbery were published and sent to the Interpol member countries.
The art works have been found in result of investigations with Washington, Wiesbaden and other central bureaus.
All the culprits have been identified. 14 paintings have been given back to their owner-Germany Bremen Museum and more than 200 exhibits returned to the country.
An international notice was issued for Aydin Ibrahimov Ali by Interpol. He came to Azerbaijan from the USA in September and gave up himself to the police.
Mammed Mikayilov also noted that photos of stolen carpets from Azerbaijan Museum of History were obtained by MIA Main Investigation Department and the information about the carpets has been included to the data base of Interpol. At present, 103 stolen art works are being oriented.