Today.Az

»

Society » ?zerbaijani grandmasters to participate in European chess championship in Warsaw


09 June 2005 [09:20]

- Today.Az
241 chess players will take part in the 6-th individual European championship to open on 17 June 2005 in the Polish Capital city, Warsaw.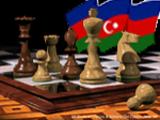 The tournament will be held according to the Swiss system, in 13 tours. The winner of the contests will get 20,000 euro, the second prizewinner –16,000, the third one – 12,000. Even the chess-player, who takes the 50-th place, will receive 400 euro.  Such elite grandmasters, as Ivanschuk (Ukraine, 2739), Dreev (Russia, 2705), Bologan (Moldova, 2700) and other will take part in the tournament.

Our country at such a prestigious and impressive chess tournament will be represented by the grandmaster, Timur Radjabov (2673), for whom it is the high time to manifest himself as the champion of Europe, the most talented grandmaster Shahriyar Mammadyarov (2646), who always starts remarkably, and loses his gained positions at the finish, the grandmaster Vugar Hashimov (2585), for whom we wish, first, a good physical shape at the tournament, the grandmaster Husseyn Gadirov, (2573), a competent, but no stable so far, chess-player, international masters, Namig Guliyev  (2526), and Rasul Ibragimov (2514), for whose victory we hope a little less, than for the above-mentioned grandmasters, and the grandmasters Rauf Mammadov (2511) and Sarhan Guliyev (2481), not participating in tournaments for a long period, Sarhan's brother, Logman Guliyev (2401) and a very talented chess-player Elmir Husseynov, a son of the outstanding, currently late Azerbaijani grandmaster Aydin Husseynov.