Today.Az

»

Society » Landslides intensify in Azerbaijan


18 October 2017 [14:39]

- Today.Az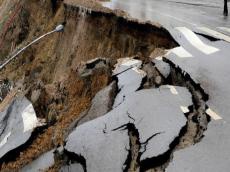 By Azernews
By Rashid Shirinov
Scientific researches has revealed that the number of areas that are prone to landslides in Azerbaijan has increased by four times in the past 24 years. Many landslide zones exist in Lerik, Yardimli, on Shamakhi Road, and in the Absheron peninsula.
The relative activity in the dynamics of landslide processes, and the processes of collapse and flooding was recorded at 106-111 kilometers of Baku-Shamakhi highway, in the territories of the settlements of Zykh-1, Mashtaga-Zabrat, Dash Karkhanasi and Gala.
As for the regions of Azerbaijan, experts marked relative activity in landslide zones in Astara, Lankaran and Lerik regions, as well as on the Lankaran-Lerik highway, the ministry told APA on October 17.
A landslide is a dangerous geological phenomenon – it is the displacement of the masses of rocks down the slope under the influence of their own weight and additional load due to the slope underwashing, waterlogging, seismic shocks and other processes. Landslides occur on valley slopes or river banks, in the mountains, on seashores, and even on the seabed.
The recent studies conducted by specialists of the Expedition on Geological Planning of Azerbaijan's Ministry of Ecology and Natural Resources revealed that there is stability in most of the landslide zones of Baku and Absheron district.
Moreover, relatively activity in the dynamics of exogenous geological processes was recorded in Masalli, Jalilabad, Gadabay, Ismayilli regions, along the Agsu pass, as well as on the Muganli-Ismayilli road and the Basgal-Sulut highway.
Baku also has its landslide zones, including Masazir, Bail, Zikh, Hovsan, Yeni Gunashli, and Ahmadli.
Scientists believe that human activity is the reason for 80 percent of the landslides, as their agricultural activity increases the risk of landslides.
Construction work on the slopes of Baku and the Absheron Peninsula, the use of a watering yard, the outpouring of groundwater on the surface, and other factors are the cause of landslides, which have been a problem in the past as well.