Today.Az

»

Society » Civil aviation fleet widens with new aircraft


29 August 2017 [17:30]

- Today.Az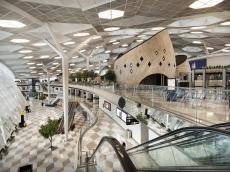 By Azernews
By Amina Nazarli
Civil aviation, currently accounting for 63.5 million jobs globally and 3.5 percent of global gross domestic product, is one of the most asset-intensive and regulated industries in the world.
With parts that are high-cost and low in numbers, even the slightest of improvements in asset functionality and maintenance can yield significant cost and efficiency advantages.
Azerbaijan, the South Caucasus's most developed economy, is experiencing an era of development in civil aviation. If earlier Azerbaijan Airlines AZAL provided passengers with ordinary flights, today the national carrier's customers enjoy AZALJET, low-cost brand and only recently Buta Airways joined their ranks, as 100-percent owned subsidiary company of AZAL.
The first low-cost airline in Azerbaijan was founded in December 2016. The Airline's fleet consists of modern Embraer aircrafts.
To start flights in autumn 2017, Buta Airways will offer final minimum airfare for all destinations for only 29 euros one way.
President Ilham Aliyev viewed the first Embraer 190 aircraft on August 25, which was brought to Baku by Buta Airways.
President of AZAL Jahangir Asgarov informed the head of state of the new economy class aircraft, which has 106 seats.
Buta Airways will carry out flights to the most popular destinations. The carrier will launch flights from Baku to Moscow, Kyiv, Antalya, Kazan, Mineralnye Vody, Tbilisi and Tehran starting from September 1, as well as to Istanbul and St. Petersburg and from Ganja to Moscow beginning from October 29 in accordance with the winter flight schedule.
The company plans to deliver another Embraer 190 aircraft to Baku soon. In general, the airline's fleet will include eight Embraer 190 aircrafts.
Being a low-cost airline, Buta Airways will offer additional services such as carriage of baggage, hand luggage, hot onboard meals, as well as seat selection in the airplane on the flights on a paid basis.
Carriage of hand luggage of unlimited weight, with the sum of three dimensions not exceeding 110 cm will cost 25 euros. Carriage of baggage weighing up to 23 kg (inclusive), with the sum of three dimensions not exceeding 158 cm will cost 25 euros. When purchasing baggage on the website or at sales offices in advance it will cost 20 euros.
The airline will provide sandwiches and water free of charge on all flights, hot meals can be pre-ordered during the purchase of the ticket for 7.90 euro. A variety of drinks and cold appetizers are available on board the aircraft.
As additional options Buta Airways flights will provide comfortable seats in the aircraft cabin. Seats with extra legroom in the first row and emergency exit will cost 25 euros, priority seats at the front of the cabin - 15 euros. Check-in will be available online on the website and self-service check-in kiosks free of charge. Check-in at the counters at the airport will cost 3 euros.  

Being a natural catalyst for the economic growth and development of Azerbaijan, civil aviation plays a crucial role in the country's socio-economic development, in particular in the development of tourism and business. 
The country's favorable geographical location, which creates good opportunities in terms of the establishment of the regional transport infrastructure and logistics, the further development of civil aviation is an important part of the country's economic strategy.
AZAL, a major air carrier and one of the leaders of the aviation community of CIS countries, is taking advantage of government support and is now one of the major companies not only in the region but also across the globe.
Total route network of the airline is 40 destinations in 25 countries. In 2016, Azerbaijan Airlines carried over 2 million passengers. And the number of its flights is increasing. More than 16,000 scheduled international flights depart Azerbaijan annually, destined for over 38 cities all over the world. More than 1,300 flights are available to passengers annually, destined for local airports.
AZALJET brand, opened last year operates to the most popular destinations of the nation. These destinations include Moscow, Istanbul, Tbilisi, St. Petersburg, Minsk, Kiev, Lviv, Tehran, Aktau, Kazan, Mineralnye Vody, Ankara, and the Turkish Antalya, Izmir, Bodrum and Dalaman resorts.
Sales and flight scheme on these flights is close to low-cost airlines, that is, passengers have a choice of several services in the form of paid options. At the moment, base rate for all AZALJET flights, including all taxes and fees, starts from 49 euros. This is one of the most competitive prices among all airlines flying to Azerbaijan.