Today.Az

»

Society » 150,000 people live in landslides zones in Baku


03 November 2016 [18:00]

- Today.Az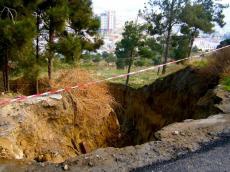 By Azernews
By Amina Nazarli
The Geography Institute of the ANAS has revealed a map of landslide zones on a territory of Baku.
Nariman Pashayev, Head of the Department of Economic and Political Geography of the Institute said that about 20 areas in the capital are considered landslide zones and more than 150,000 people live on the territory.

These zones are Ahmadli and Zigh avenues, areas in Binagadi, Bailov, Badamdar and around Masazir lake.
Pashayev said many large villas were built in areas located at an altitude of 100 meters above sea level. Also, during the construction no one even took into account that these territories are composed of clay rocks and prone to landslides.
"Coastal areas of Buzovna, Bilgah and Garachukhur are also prone to landslides, which territories also have many houses. Residential buildings in the territory of Garachukhur have large cracks that are expanding. They will all be subject to landslides.
The head of the department said despite a number of buildings in Bayil slope have been slightly reduced, the territory is still prone to landslide process.
"It is necessary to reduce the population in Bayil slope, Ahmadli array and Garachukhur village. Sewage waters should also be controlled," he said.
The scientist also stressed about the high landslides threat on the Absheron peninsula. "Every time when landslides occur, relevant agencies take appropriate measures, but after certain period of time, the work is suspended," Pashayev complained.
Meanwhile, another threat is coming from Masazir cemetery, which can go under water if not to carry out strengthening work there.
Stara Tarihazari, a leading researcher at the Department of Landscape Design and Landscape of the Institute claims that urgent measures need to be taken, otherwise cracks will increase, and the graves will simply go under water.

Rains intensified landslides not only in the capital but also in regions of the country. So, due to the landslides many roads in southern regions Lerik and Yardimli leading to the mountain villages are closed.
Experts claim that the number of areas that are prone to landslides in Azerbaijan has increased by four times in the past 24 years.
Scientists believe that people are behind 80 percent of the landslides by their agricultural activity which increases the risk of landslides